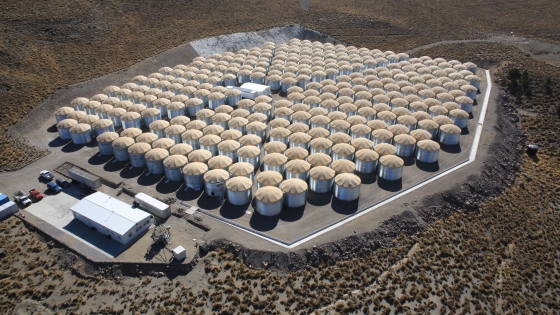 SEMINAR:- The High Altitude Water Cherenkov TeV Gamma Ray Observatory in Mexico   
The High-Altitude Water Cherenkov (HAWC) Observatory is a unique water Cherenkov detector, studying the universe through gamma rays in an energy range from 100 GeV to 100 TeV. HAWC was constructed on Sierra Negra, Puebla, México, at 4100 meters above sea level. It began full operation at the end of March 2015, and it is expected to be ~ 15 times more sensitive (crab) than its predecessor, the MILAGRO observatory. HAWC consists of 300 water Cherenkov detectors, covering an area of 22,000 square meters, each consisting of a corrugated metallic cylindrical structure (7 meters in diameter and 4.5 high) bracing a bladder with 180,000 liters of ultra clean water and 4 photomultiplier tubes on its interior to detect the Cherenkov radiation produced by charged particles from extended air showers. With an instantaneous field-of-view of ~2 str, equivalent to 15% of the whole sky and continuous operation (24 hours per day).   
HAWC with a better Gamma/Hadron rejection method than other similar experiments, is an ideal survey instrument with a big synergy with other observatories like AUGER, IceCube, and Air Cherenkov Detectors (IACTs). In this contribution I will present an overview of the HAWC experiment highlighting the Galactic plane results, including a presentation of a new detailed sky map with unprecedented information on detected gamma ray sources, discovery of new gamma ray sources, a flare detected from MRK 501, as well as its upgrading by installation of "outriggers".   
時間:2016.12.13(二) 12:00 
地點:香港大學 莊月明物理樓522室 
講者:Dr. Eduardo DE LA FUENTE ACOSTA (Universidad de Guadalajara, Mexico Laboratorio Nacional Conacyt HAWC) 
語言:英語 
免費會議,歡迎參加
【訊息由張詠倫提供】
上圖:高海拔水媒兆級電子伏特伽馬射線天文台 hawc-observatory.org
此活動由香港大學物理學系主辦。