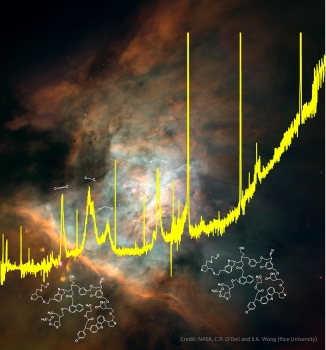 Seminar: Physics and Chemistry in the Envelopes of Evolved Stars  
When a low- or intermediate-mass star evolves from the Asymptotic Giant Branch (AGB), proto-planetary nebula (PPN), to planetary nebula (PN) phases, it ejects matter from its surface into space, forming an expanding circumstellar envelope (CE). Investigation of physics and chemistry in CEs is the key to understand the recycling of matter between stars and the interstellar medium (ISM). It has been established that the CE provides an active site for the production of dust grains and various molecules. However, the picture of circumstellar chemistry is still far from clear. It is not yet known how complex molecules might be formed in CEs.
In order to investigate the roles that the changing physical conditions (e.g. dust, stellar wind, shock wave, radiation field) during the AGB-PPN-PN transition play in circumstellar chemistry, we performed an unbiased molecular line survey of a CE sample at radio windows. The observations allow us to systematically study the relationship between molecular compositions and nebular properties as well as their evolutionary statuses. Complex molecules can be investigated through their infrared vibrational spectra. We proposed that mixed aromatic/aliphatic organic nanoparticles are likely to be the carrier of unidentified infrared emission features, suggesting that CEs have no difficulty to synthesize complex organic compounds. For the first time, we discovered C60 in a PPN. I will review the implications of the detections of fullerenes on circumstellar chemistry.
In the PN phase, the nebulae are photoionized by hot central stars, forming a natural laboratory to study the plasma behavior in extremely low-density environments. In the past, the energy of free electrons in PNe has been assumed to follow a thermal distribution. However, a suspicion recently arose because a non-thermal electron distribution is able to explain some puzzles of nebular observations. We develop new plasma diagnostics to sample the electron energy distributions in PNe. This has a profound impact for the abundance determination.  
時間:2016.01.08(五) 16:00
地點:香港大學 莊月明物理樓 522室
講者:Dr. Yong ZHANG 張泳 博士 (香港大學)
語言:英語
免費會議,歡迎公眾參加
【訊息由張詠倫提供】
此活動由香港大學物理學系主辦。